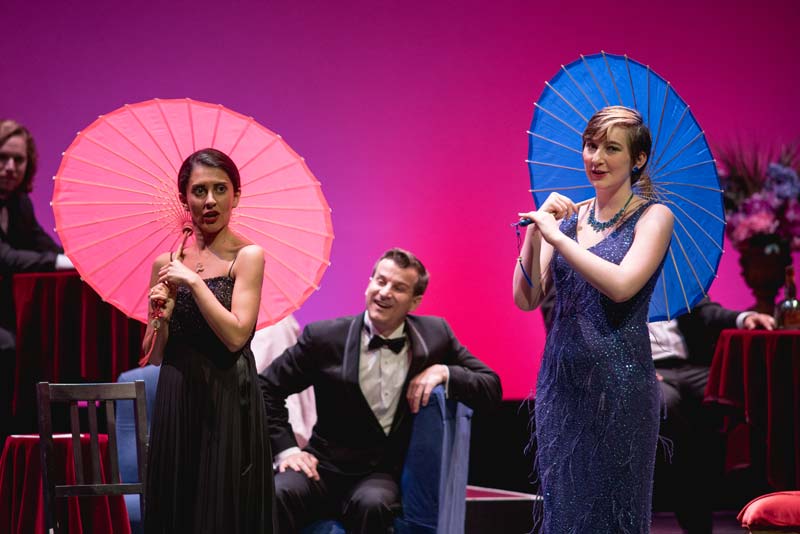 SING with professional orchestra
PERFORM roles in fully staged scenes
IMPROVE your acting technique
EXPAND your art song repertoire
ENHANCE your career skills
Location: Cal State Los Angeles
Check In: July 5, 2017
Final Performance: July 29, 2017
Our month-long summer OPERA INTENSIVE is designed to develop career skills of the collegiate level singer (no age limit). Advanced high school singers may also be considered.
Participants receive coaching, focused on operatic style, performances techniques, dramatic presentation, body awareness, yoga, meditation, acting, stage combat, resume and career building.
The Cal State LA campus is located in the heart of Los Angeles, a thriving multicultural metropolis with beautiful beaches and ideal summer weather. The campus is easily accessible by metro/bus for SoCal residents; housing available for out-of-town artists.
Artistic Director Kristof Van Grysperre leads the program with faculty members Dr. Susan Kane, Victoria Kirsch, Anne Marie Ketchum, Suzan Hanson, Dr. Linda Zoolalian and other professionals in the field of opera.
All participants take part in:
Two evenings of fully staged opera scenes with professional chamber orchestra and conductor (July 28-29). 
Art song recital project "Impressions & Expressions" (July 19-20).
Professional photos will be available for students
DAILY ACTIVITIES include:
Music & staging rehearsals for opera scenes
Vocal coaching by world-class faculty
Hatha yoga & meditation  
Interactive master classes
"The 21st Century Singer" workshop focusing on:
How to Make a Living as a Singer 21st Century
The Value of Music in Other Fields
Music Business and Entrepreneurship
21st Century Music Leadership
and most importantly, developing YOU into a Successful Artist 
Acting & Movement for the stage: Finding the personal connections to the characters, the words, the story, in conjunction with the driving force of the music, is a huge task for the singer! This course provides fundamental tools and approaches that can become part of the singer's lifelong "toolbox" for all genres and styles of music and production.  This summer we're adding Commedia dell'Arte and Stage Combat classes. 
SAMPLE SCHEDULE:
10:00 am     Morning self-care for artists (yoga, morning warm-up)
11:00 am     The 21st Century Singer workshop
12:30 pm     Lunch break
1:30 pm       Acting & movement for the stage
2:30 pm       Opera scene music rehearsal
3:30 pm       Recital coaching
5:30 pm       Dinner break
7:00 pm       Opera scene staging rehearsal
9:00 pm       End of day
APPLICATION PROCESS:
→ Send your application through email (info@angelsvocalart.org)
Please, provide the following information:

name, date of birth, phone number, email address, mailing address, voice type, name of school and name of voice teacher
resume

Live auditions ongoing in Los Angeles
Video auditions accepted
→ Audition information
Please prepare two contrasting classical selections: one piece must be in a foreign language + one piece must be an opera aria
An accompanist will be provided for all auditions
You will receive more details about your audition after emailing your application materials
TUITION/FEES (payable by check, PayPal, credit card and cash):
Application fee: $75
Tuition: $2,200
Partial scholarships available
On-campus room rentals (optional): $1,550 (single occupancy, shared bath); $1350 (double occupancy, shared bath); we can provide linens for $50
Ready for a wonderful summer program? Just send us an email: info@angelsvocalart.org
"I'm leaving inspired, full of passion with new skills to share with the world."
– Angela Zúñiga
"It was the most positive operatic experience I have ever had."
– Jenny Ahn
"The experience was eye-opening and life changing."
– Joann Wyse